Who is NOMB CHANGES?
About us
NOMB Changes is a NGO based in Fuerteventura (Canary Island, Spain). To know more about who we are, what motivates us and how NOMB Changes was born – find it out here.
A rock in the Atlantic Ocean, approximately 100 km West of the African coast: on the island of Fuerteventura is where everything began. This is where we four founders got to know and appreciate each other in 2015.
Numerous surf sessions, projects and adventures in different continents, countless waves and challenges later, were able to say: That fits!
And so we brought them together, our ideals, dreams and ideas to make this world a better place and home for everyone. The result: NOMB Changes.
Our mission:
Bring about positive changes in our society and our environment.
Our tool:
Surfing.
Angie
Aloha. My name is Angie Ringleb. I was born in the USA and grew up in Essen, central Germany. After school I went to explore the world, and eventually studied International Tourism & Hospitality management at London Metropolitan University.
I now live on Fuerteventura and run my own surfschool, NOMB Surf. During the past 10 years of professional surfcoaching, I have trained myself in different areas, I have tried and errored and designed specific surfcoaching methods.
In 2022 I started being involved in the training of surfers with disabilities. There is still so much to learn for me, for the sport and for our society. Making surfing accessible for everyone, and using is as a therapeutical tool, that is one of the main goals I am aiming for personally.
Since being young, I have felt the urge to change the world for the better. I feel very strong about injustice. When I was 11 years old, I decided to stop eating animals, a few years ago I changed to a completely plant based diet. I have always tried to create positive changes around me, tried to motivate the people close to me, tried to embody tolerance and face life and its problems directly. Being confronted with opposition threw me of balance a few times, but it has not stopped me.
My admiration for mother nature became even stronger when I started surfing. The connection with the waves makes the ocean my home, my place of refuge, my healing and also my challenge. The sport of surfing is unique, it moves so much inside of me and offers me unlimited possibilities of positive usage.
All my attempts to change the world around me made me connect with incredible people .They supported me, motivated me and, also through criticism, made me grow. But at the end of the day it was always me, Angie.
Mid 2021 I reached a point where ´just Angie´ just wasn't enough anymore. Born was the idea of NOMB Changes and using surfing as a tool to create positive changes in our society and environment on a larger scale.
Life has chosen to make my way cross with Annette, Chicken and Doro. All at different times but every time here in the waves of Fuerteventura. People always say: things happen for a reason. I know now why we ended up being friends instead of just passing through each other's lifes. Forming one big dream out of several individual ones turned us into a real dreamteam. I am excited and looking forward to the path ahead of us.
If you share our thoughts and ideology, we would be honoured to welcome you as a NOMB Changes. Alone we are a drop, together we are an ocean.
Sea you there. Love Angie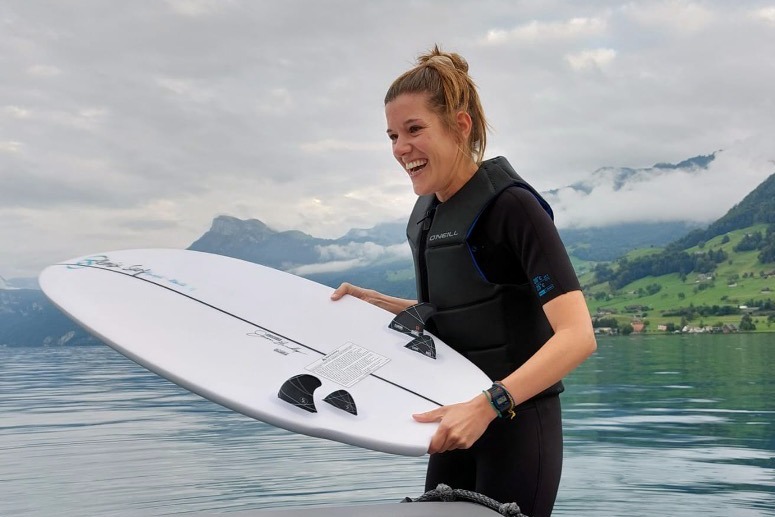 Susi
My parents gave me the name Susanna – in the surfcommunity tough, especially on Fuerteventura, everyone knows me by the only name "chicken". Well, apparently it comes from my sleepy being on the surfboard, but still kind of managing to catch a wave. I have discovered my passion for surfing on the island of Fuerteventura in 2015, where Angie coached me for the first time on the sandy beach of Cotillo. Well, since then, I have been dreaming of waves in different spots on this beautiful earth, especially being landlocked in Lucerne (Switzerland) – all of that with surfbuddies by my side. What does surfing teach me? To be patient with myself and accept and conquer challenges. Step by step.
When not in the water, I am mostly found at church, where I work as a priest for the reformed church of Switzerland. It suits me, as it lets me live and experience the value of justice and equality within community.
Annette
When I was booking my first surf course in 2013 on Fuerteventura I was expecting lots of sunshine, some sports aciticities, having fun and maybe meeting some nice people. What I got was lots of sunshine, muscle pain, fun, friendships lasting until today and a new love: surfing.
Ever since surfing has opened many doors for me: to the ocean, to people, to places and to myself. And it got me a new nickname: Bombette.
After living in Düsseldorf, Kampala and Hamburg, I am now back in my hometown Munich. My favorite animal is the pangolin, that's why I have one on my surfboard.
Children's rights, women's rights, intercultural encounters and civic engagement are issues close to my heart, which also concern me professionally and which I would like to combine with surfing at NOMB Changes.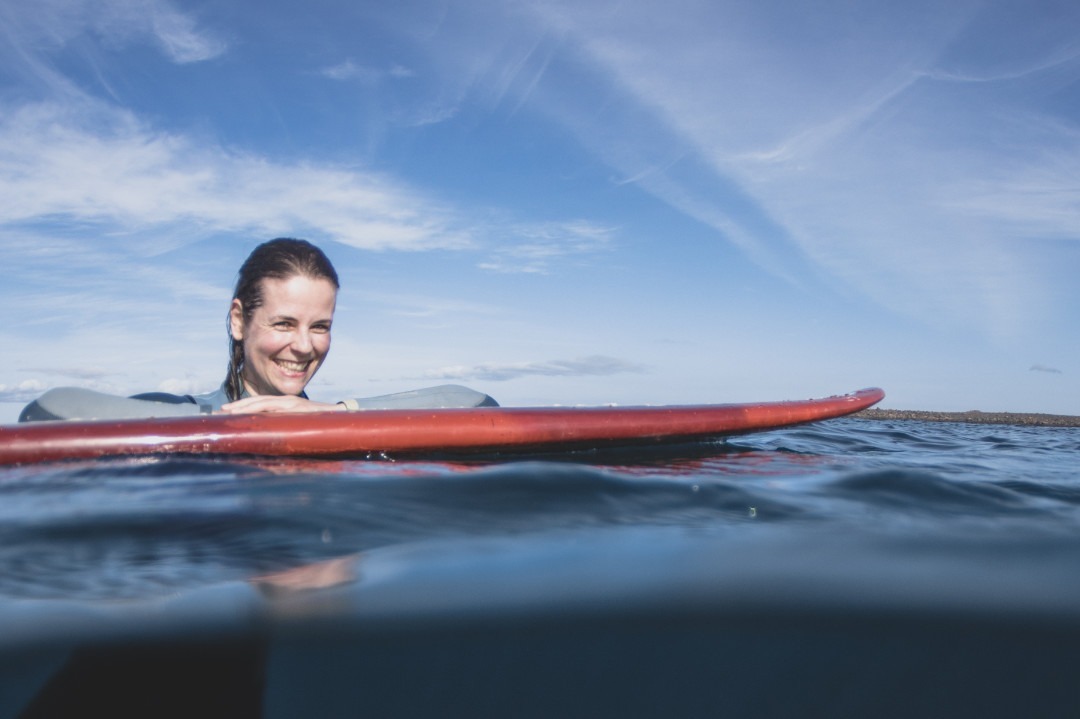 Doro
In 2015, I quit my job at a publishing group for travelguides to work for a surf school on a previously unknown island in the middle of the Atlantic. 
That was the beginning of many things: my connection to this very special place on earth, my passion for surfing, new paths, wishes and ventures – and my friendship with Angie, Annette and Chicken.
In the meantime, I live close to nature in the beautiful Allgäu, I am self-employed (online marketing and content management) and I am a trained hiking guide and mental coach. Outdoor, exzellent (online) content,  movement (physical and mental), empowerment and equality are matters close to my heart. And of course the sea and surfing. 
For me, surfing is much more than just a sport – it is a connection to the ocean, a challenge and a teacher, a space of experience and also a tool. And I am happy and grateful to be able to bring about big changes in small steps together with all NOMB Changers.
Passion & tool
Why surfing?
Surfing to us means passion, home, growth, empowerment, and room for experience within our own possibilities as well as our planet and nature.
We believe in the potential of surfing and in the ocean as our core of planet earth. We are convinced that surfing offers many possibilities to promote environmental consciousness, to activate changes within ourselves and to improve the physical and mental health of people.
We have organized and supported numerous projects in the past years, strenghtening our philosophy mentioned above. These events have inspired us to start NOMB Changes and build a platform that provides room and possibility for change.
Surfing as an Impulse
for the protection of our natural base of life according to the sustainable development goals.
Surfing as a of space for experience
for building up strengths and overcoming challenges.
Surfing as a chance
for the encounter of human beings at eye level, independent of gender, origin, and education.
Surfing as an inspiration
for growth and positive change.
You can find a range of previous projects here: