Surfing 30 days for charity
MakeAWave Vol.3
Fuerteventura &  Galicia, Spain
Healthcare &  Community Support
MakeAWave is an annual fundraiser surf challenge organized by the Australian NGO Surfaid. We here at NOMB Changes think this is an epic initiative and are happy to support Surfaid by fundraising for MakeAWave.
For the third year in a row our founder Angie will participate in the MakeAWave challenge, surfing 30 days straight all through September. Here are some words of Angie asking for your support.
Aloha,

I'm excited to share with you that again this year I've decided to take part in the MakeAWave surf challenge, and I would love to tell you more about it. In an effort to improve the health, well-being and resilience of people living in isolated surfing regions, I will be surfing every day throughout September.

I am participating in an epic fundraising challenge with SurfAid to raise vital funds for their programs. The reason I've taken on this challenge is my belive that we as surfers can make a positive change in society and the environment.

Throughout September I will be surfing to raise money for SurfAid's global programs. Every dollar raised helps ensure access to clean water & sanitation, basic healthcare, and improved nutrition programs in SurfAid's partner communities. I will be fundraising over the next few weeks to work towards my goal of €1.500. The past years I have managed to raise €1.000 each, this year I would like to push my goal to fundraise €1.500.
If you are able to support me with a tax-deductible donation, I would greatly appreciate it! Together we can make a real impact on the well-being of individuals in isolated regions. You can make a tax-deductible donation directly to my SurfAid page. There you also find daily updates on my sessions, as well as through NOMB Changes social media channels.

Thank you for your generosity amd supporting my effort.
Besos, Angie
More info about the impact of the surf challenge
For over 22 years Surfaid's core mission has been to save the lives of women and children in remote areas that are connected to us through surfing. A lot of their work is in Indonesian´s heartland – the Mentawais, Nias, Sumba and Sumbawa, and the Solomon Islands in the Pacific.
In these extreme isolated areas where few visitors except surfers go, mothers and children are faced with some of the highest mortality rates in the world. Up to 70% of these death can be prevented by improving access to the core elements of SurfAid's programs: clean water and sanitation, basic healthcare and nutrition.
Surfaid works with communities with long-term behaviour change through their ' hand up, and not hand out' approach. The local staff provides advice, training and expertise but it is up to the community to implement the initiatives and embrace change.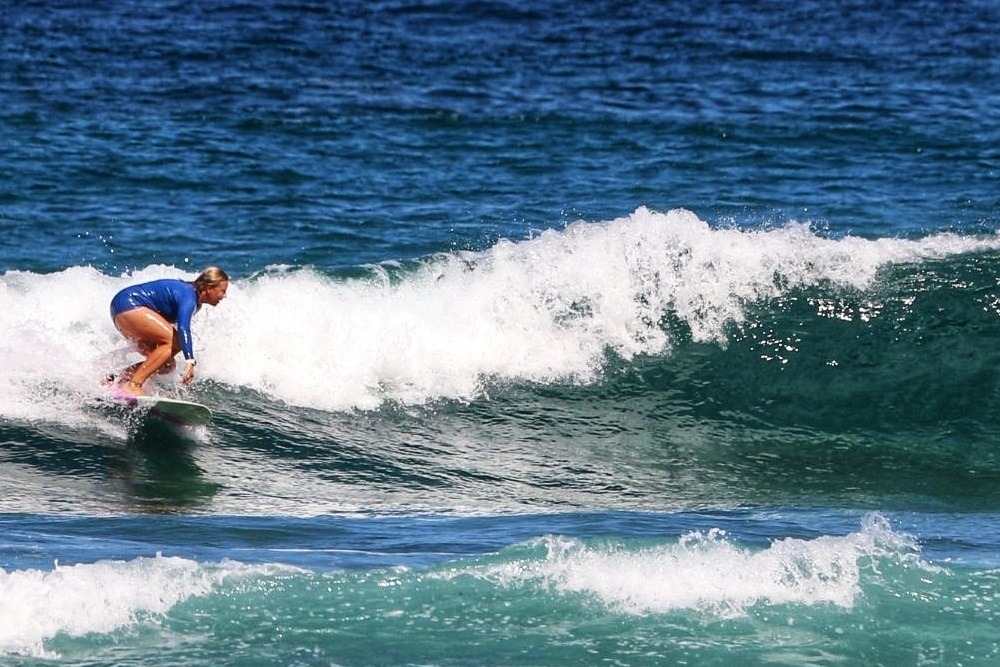 Angie's MakeAWave Vol.1 (September 2021)
Angie's MakeAWave Vol.2 (September 2022)
We here at NOMB Changes believe that change starts with everyone of us, a actively support Angie with good vibes and cheers. If you donate or not, Angie will also be very happy about nice messages and a lot of surf power sent to her.
Follow Angie's surf challenge on our social media channels and support her through a donation.