Aloha, I am Angie, one of the NOMB Changes founders and a strong believer that surfing with breast cancer is possible and can really make a difference. I just got back from Galicia (mainland Spain), where I suppported Trancalmate, a yoga&surf retreat for women with/after breast cancer. Packed empowerment in the waves to uplift women and help them to reconnect with their bodies and selfesteem.
Breast cancer is a very challenging journey, one of profound courage, resilience, and transformation. Yet, from this journey, arises an incredible opportunity for rediscovery, strength, and unity. This was evident at the heart of Trancalmate, which was held on the beautiful coastlines of Galicia, exclusively for women who have/are battling breast cancer.
Extraordinary group of women
Five amazing women took part in this yoga & surfing experience: Susa, with her infectious laughter; Birgit, whose determination knew no limits; queen Anke, with her neon appearance; Marina, whose spirit was contagious; and Bianca, an ever-resilient soul. Each has her story, her battles through breast cancer, her victories, and her dreams. I admire their guts to make travel plans and actually travel, knowing that their situations might change within a heartbeat.
A strong retreat team
Anna Götz, a dedicated yoga instructor with an impassioned mission, conceptualized and organized this retreat. She envisioned a space where women could embrace the healing power of the ocean waves and the serene discipline of yoga. And, she wasn't alone in her quest. Joining her was also kitchen queen Ray Klein, who curated epic gastronomic experiences.
And then there was me, Angie. In my 10 years of surfcoaching experience I have seen and experienced the power of surfing to heal, to challenge, to empower, to feel alive. The list is endless. The past week has once again proven just how beneficial the sport of surfing can be if used as a therapeutic tool. I have seen our ladies rise, overcome their boundries and believe in themselves. A beaming smile on their faces is worth more than all the money in the world. Having our local coach Ramon Alvarez by my side was a massive support for both me and the ladies.
Making surfing with breast cancer possible
Every morning, while it was still dark outside, the chicas would gather for their yoga sessions led by Anna. With the rhythm of crashing waves as their soundtrack, they would move gracefully through their asanas, focusing on the breath, finding inner balance, and drawing strength from one another.
But Trancalmate was not just about the inner journey. It was also about experiencing the power of the beautiful Atlantic ocean. Under the vigilant eyes and patient guidance of myself and Ramon, the group learned to navigate the waves. The ocean, with its ever-changing moods, is a powerful metaphor for life – unpredictable, challenging, but utterly rewarding.
As the ladies stood tall on their boards, shredding the whitewash and faces of the waves, one could witness their metamorphosis to confident surfers. Everyone did so well, from first day beginner to experienced surfer. Each of the ladies had their own goals and tasks to work on but they all shared the passion and power to show that surfing with breast cancer is possible. I am so unbelievably proud of every single one of them!
Our evenings were real fun. After a day of physical exertion, Anna led restorative yoga sessions, allowing the group to wind down, stretch out tired muscles, and immerse themselves in meditation. As the sun dipped below the horizon, the women would share stories, laughter, and memories, with Ray's culinary masterpieces enhancing the sensory experience. A game or two of Tabu would end the days with giggles and the desire for another beautiful day to come.
Incredible sisterhood
While the backdrop of Galicia, with our stunning home break beach, it's coastline and the indomitable spirit of the Atlantic, played an majestic role, it was these strong ladies who were the real stars of the retreat. Their stories, woven together by threads of courage, resilience, and hope, served as a testament to the human spirit's ability to triumph over adversity.
One could feel the strength of community and friendship throughout the week. Whether they were cheering each other on as they caught a wave or supporting each other during a challenging yoga pose, strong bonds were forming. The group shared more than just their breast cancer journeys; they shared dreams, hopes, fears, and above all, an unyielding zest for life.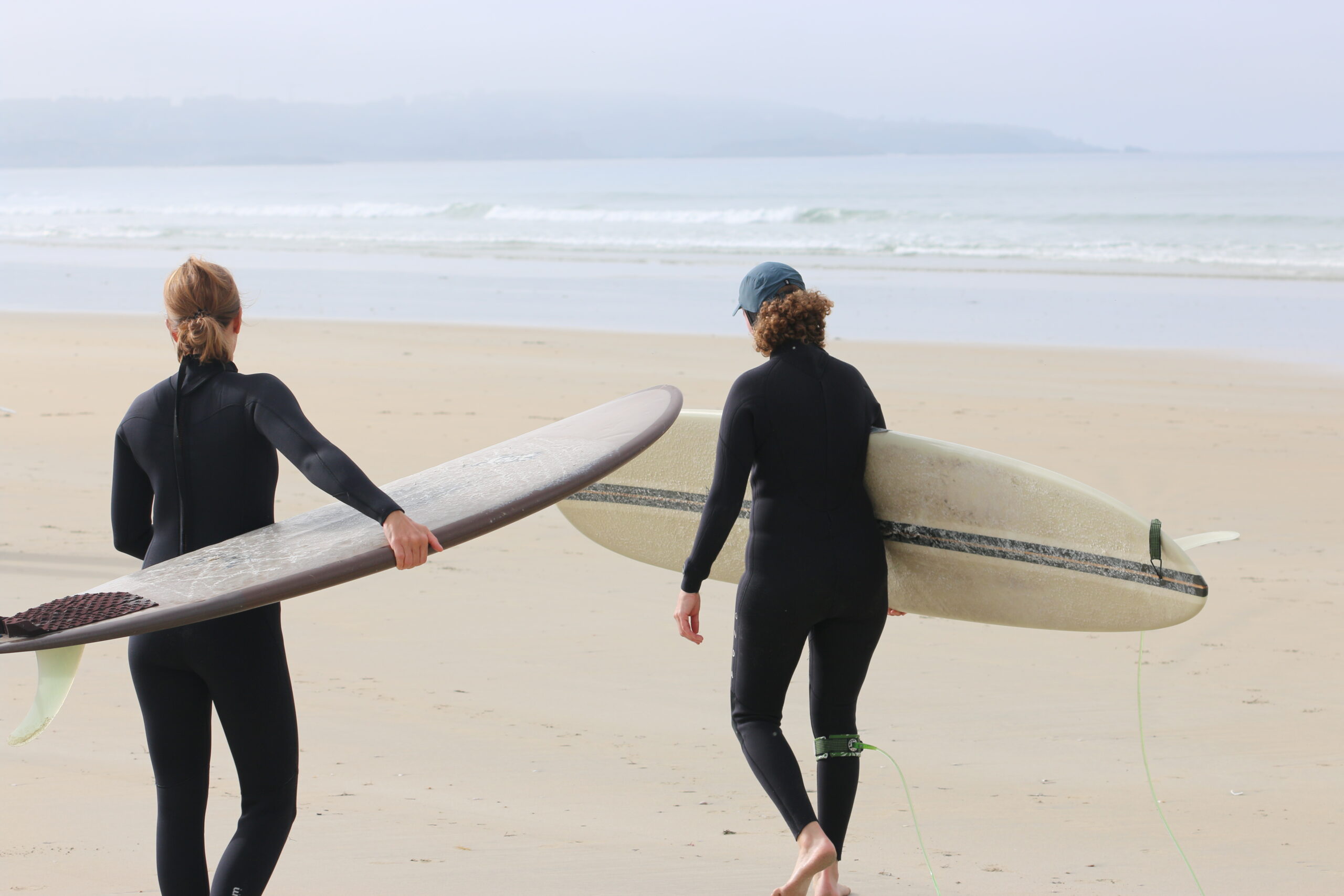 Surfing waves of therapeutical benefits
Surfing, at its core, can be a lot more than just riding waves; it can also be a form of therapy, offering physical and mental health benefits. Engaging with the dynamic and ever-changing ocean is an immersive experience, connecting the surfer with the raw, untamed elements of nature. This connection fosters mindfulness, as the surfer must remain present, responding to the constantly changing patterns of the waves.
Physically, surfing demands strength, coordination, and balance, providing a full-body workout that enhances cardiovascular health, muscle tone, and flexibility. The repeated act of paddling strengthens the upper body, while navigating and riding waves improves core and leg strength.
Mentally, the rhythmic motion of the waves and the sheer focus required to surf have a meditative quality. This can alleviate symptoms of stress, anxiety, and depression, promoting a sense of calm and tranquility. The ocean itself, vast and serene, offers a perspective that can dwarf personal problems, giving individuals a fresh viewpoint on challenges they face.
The communal aspect of surfing fosters a sense of belonging, as surfers often share waves, stories, and camaraderie. In essence, surfing is a holistic therapy, offering a harmonious blend of physical exertion, mental rejuvenation, and soulful connection.
We at NOMB Changes believe in the power of surfing and are using it as a tool to create positive change. Trancalmate is a perfect example of how surfing, instructed in the right way, can be of incredible benefit. The past week showed our ladies that surfing with/after breast cancer is possible, and a lot of fun.
Fun activities apart from yoga and surfing
There were a lot of other things to experience during Trancalmate, other than surfing and yoga. Exploring the old town of Pontevedra, enjoying nature on Illa de Arousa, visiting a wooden surfboard factory, surf theory sessions, rubbish collection on the beach, sunsets, drysurf sessions when it was pouring down raining outside, walking on the beach, drinking coffees in la Curva, or simply relaxing. The week had it all.
Creating change in the life of our participants
As the retreat came to an end, there was a shared sentiment of gratitude and empowerment. Susa, Birgit, Anke, Marina, Bianca, Anna, Ray and myself, we all left Galicia with renewed vigor, epic memories, and a feeling of sisterhood that will stick around for a long time to come.
Reflecting on the past week I can say that I am beyond proud of each and every participant. These women have faced life's harshest challenges, yet they've emerged stronger, more unified, and radiantly alive. This retreat was not just about yoga or surfing; it was about reclaiming oneself and celebrating life. I am honoured and very thankful to have been a part of the past week.
While the waves of life can be unpredictable and challenging, with the right tribe and the right spirit, one can ride them with grace and resiliance. I am looking forward to Trancalmate Vol.3 (Sep 2024) to keep creating positive change through surfing.
.
NOMB Changes is a NGO evolved from the passion for surfing, the love for mother earth and the fundamental belief of initiating great changes with little steps.